The Roofing Contractors Association of British Columbia and Steetz develop partnership to provide world class tools, education and training to the next generation of Architectural Sheet Metal craftsmen.
---
"… It was clear that Steetz would be essential in acquiring all of the equipment necessary to make this training facility one of the best in North America."

Connor Hofler – RCABC Architectural Sheet Metal Instructor
---
Some of Peters Work that Inspired the School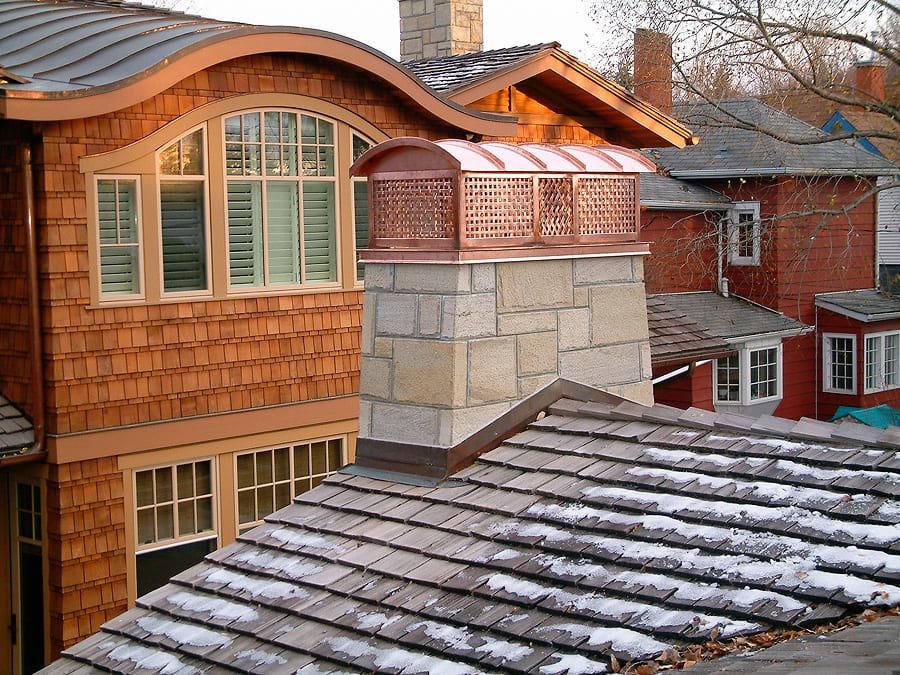 ---
Event Summary
Steetz attended the grand opening of RCABC's Architectural Sheet Metal Training Centre in 2010 to provide tools, guidance and training to the students looking to further their understanding of traditional architectural sheet metal techniques and architectural sheet metal fabrication skills required to complete projects like the ones here.
It was as a memorable event – complete with a catered lunch, photographers, speeches by local VIPs; and attended by the who's- who of Canada's roofing industry. Students were excited to learn more about architectural sheet metal jobs. But, as with most such occasions, there were important people behind the scenes who didn't "make the headlines." Architectural sheet metal instructor Connor Hofler, who developed the RCABC version of the program, did not get up to the podium. Instead he spoke privately but enthusiastically about the people who supplied the top- quality shop equipment.
RCABC EVP Brian Hofler contacted Peter and Dagmar Steetz, the owners of Steetz, who were enthusiastic to help in any way they could and eager to meet the people who spoke of a new Architectural Sheet Metal program that would train apprentices in modern technologies, while honouring traditional techniques. Peter Steetz arranged to visit the RCABC Training Facility, driving with his family from Alberta on his own accord, and demonstrated tools and seaming techniques for the architectural sheet metal Level 2 apprentices. Steetz "captured their attention with his skill and charisma", says Connor, and after a meeting with Brian it was agreed that Steetz would act as RCABC's broker in all of its sheet metal tool and machinery needs. The Steetz's normally offer a discount for schools, but they even surpassed Connor's expectations. Working diligently and explaining RCABC's cause to various companies across Europe, Peter and Dagmar managed to get educational discounts on all of the sheet metal tools and equipment RCABC purchased through them – a testament to their good nature and work ethic. Furthermore, says Connor, "the Steetz's even came out and helped set up all of the machinery they helped RCABC acquire without being asked to." Their willingness to go that extra mile has forged a solid relationship between Steetz and the RCABC.
What was said about working with Steetz
"When doing research for the tools that the new architectural sheet metal program requires, it became apparent that many of them would have to be imported from European sources. In particular, the WUKO bending tools, which are manufactured in Austria, were at the top of the list of tools to acquire; however, there were few distributers in North America that these tools could be purchased through, and only one name appeared as an authorized retailer in Canada – Steetz. After looking through the immense selection of tools and machinery that Steetz could provide, from Stubai hand tools to Schroder brakes, it was clear that Steetz would be essential in acquiring all of the equipment necessary to make this training facility one of the best in North America."

Connor Hofler – RCABC Architectural Sheet Metal Instructor
---
Short Film from the RCABC Grand Opening
If your in the mood for some discussion and insights into the Architectural Sheet Metal training program at the RCABC check out this short film, featuring Peter himself!
(~32 minute)
---
Setting the school up for success
Today, the fully-equipped architectural sheet metal shop boasts a range of sheet metal hand tools and sheet metal machinery that Connor says "most journeyman in the architectural sheet metal trade have never seen, let alone used for their intended purposes."
These include several Schroder machines, each with different uses; two hand operated folding machines, commonly called 'slip-joint rollers', which are used for making curved or cylindrical objects; and four box-and-pan brakes, also referred to as 'finger brakes'. These have removable fingers which allow for small, detailed folds to be made, Connor explains; "There are also two rotary machines for flanging and swaging. These make small creases and folds for joints and seams. We also have one 3-metre brake, used for general forming operations; and one 3-metre shear for cutting sheets of material lengthwise."
The new architectural sheet metal facility will provide invaluable training for BC's architectural sheet metal apprentices, and raise the bar for architectural sheet metal standards in Canada. Connor is grateful for the Steetz's involvement. "It has been a pleasure getting to know Peter and Dagmar", he says. "They are dedicated, honest, and more than helpful. Hopefully this relationship will continue well into the future and, if we are lucky, Peter will be able to come and teach traditional copper working techniques to the architectural sheet metal apprentices in the future."
---
Check out some of the great products that were essential to the RCABC kicking off their Architectural Sheet Metal training program:
The RCABC nearly bought at least one of every single sheet metal tool that we have here at Steetz! (at least what we carried 10+ years ago).
Here at Steetz we wanted to make sure that the RCABC Architectural Sheet Metal Training Program was set up for success from day one. Thats why we not only provided the very best in European sheet metal tools and machinery at a great price we also took the time to set up the machines on site and demo the tools with the students.
We supplied the RCABC with various Sheet Metal Benders, Sheet Metal Hammers, Seaming Tools, Sheet Metal Brakes, Soldering Tools and Sheet Metal Snips. The RCABC can be confident that they are stocked up on all of the sheet metal tools that are essential for the development of a robust Architectural Sheet Metal Training Program.
Just a few of the tools used at the school